CryoSmart 1 Cryoscope
Simply, the best! Now, with the new "lactose-free" function!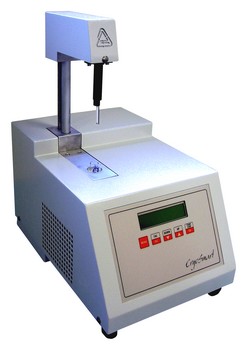 CryoSmart 1 is a single-sample automatic equipment for the rapid determination of the milk cryoscopic point variation caused by added water, according to the IDF-ISO 5764:2009 and AFNOR reference standards. This cryoscope includes the "lactose-free milk" function to control the process of removal of lactose in milk and cream.
Technical features:
Sample capacity: single sample

Setting of the real cryoscope value to calculate the added water %

Bath with Peltier cells controlled by software

Induced ventilation

Operating ambient temperature: +5°C to 36°C

Automatic calibration

Lash and agitation width controlled by software

Selectable °C, °Hortvet and water% units

Sample volume: 2 or 2,5 ml

Resolution: ±0.0005 °C

Reproducibility (bovine milk): ±0.0025 °C

"Lactose-free milk" function to control the removal of lactose in milk and cream

Analysis duration: about 2 minutes/test

Warm up time: about 5 minutes

Data exit: RS 232

Printer, optional

Power absorption: max. 100 W

Dimensions: 28 x 43 x 36 cm (w x d x h – with head down)

Net weight: 18.5 Kgs.
Click here and have a look at our video about the use of this equipment.